BROWN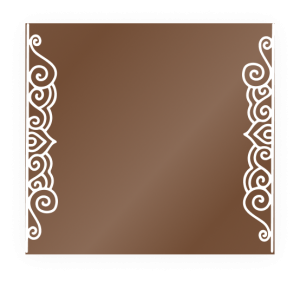 The word qonyr is not limited to colour; its connotations convey many aspects of folk life. As a colour, it is a sign of calm, warmth, and security, and in everyday life it represents serenity and politeness. In the applied arts, brown is the natural colour of traditional wooden furniture, which it has acquired over time, conveying a sense of calm and stability.

Light brown is also the natural colour of clay, which Kazakh potters associated with the earth (Zher-Ana) and which had a sacred meaning. This colour is the natural colour of wool/felt with which the yurt was covered.

Besides its direct meaning, "a pleasant yellowish-brown colour", it contains accompanying meanings, i.e. its interpretation is multivalent. These can be aural ("sound, voice"), auditory ("pleasant to the ear"), direct colour representations and the reference to the phenomenon. Experts believe that "qonir dauys" in Kazakh music "is a specific timbre rich in overtones. This timbre is peculiar to the authentic Kazakh dombra with natural strings.

The brown colour is not as prominent in world culture as it is in Kazakh culture: in Christianity it is the colour of earth, autumn, sadness, and a symbol of humility and poverty.